About the Journal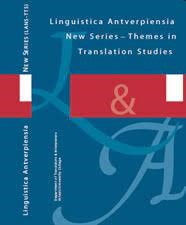 Linguistica Antverpiensia, New Series – Themes in Translation Studies (LANS – TTS) is an annual, peer-reviewed, open-access publication devoted to the study of translation and interpreting that is indexed in the Web of Science. The journal is not bound to any particular school of thought or academic group.
Translation is understood to be a dynamic form of communication which has strong roots in the society and culture that produce it and is conceived as an integral part of the production and reproduction of culture in the broadest sense.
Our current ISSN is 2295-5739. Between 2002 (issue 1) and 2012 (issue 11), we were not in open access and had a different ISSN, i.e. 0304-2294. Please note that "Linguistica Antverpiensia" ceased to exist in 2001.
With the support of the University Foundation and of the Trics Research group (University of Antwerp)